Supporting the Fight to Conquer UCD
Registration is Open for the 2017 Cure the Cycle Challenge!
Registration and Details (broken link)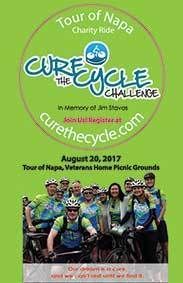 Join us to raise UCD awareness and funds for research! Participate as a cyclist at the event, or be a "Virtual Rider" from home - no bike necessary! Make an impact in brightening the future for kids and adults with UCD, and have so much fun!
---
Thank you to all our Challenge Cyclists, "Virtual" Riders,
donors, volunteers and sponsors for making our Cure the Cycle Challenge in Memory of Jim Stavas a success! Special thanks to our event host in Napa Valley, the Eagle Cycling Club, and our Challenge Team Manager, Larry "the Machine" Nolan
Highlights from 2016 (broken link)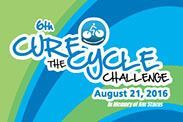 ---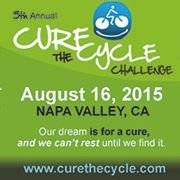 Highlights from 2015
NUCDF families, friends and supporters joined together to help raise awareness of UCDs and make research breakthroughs possible by participating in our 5th Annual Cure the Cycle Challenge. Our 2015 event participants raised over $109,000, making the total amount to date from the Challenge over $400,000 for breakthrough research to help stop the devastating neurological effects on the brain.  That's amazing, but the impact it makes on the future of those affected with UCD is profound.
Cyclists participated in Napa Valley, California and many UCD families joined us in spirit as "Virtual Riders" from home. (A virtual riders is anyone who is passionate about supporting the fight to conquer UCD but could not attend the ride in person). Participants set up their own personal fundraising pages on the Challenge website to gather pledge donations, and to tell their family's story about UCD and why they support the fight to conquer UCD. Our Challenge is held in Memory of Jim Stavas, a Napa Valley fire captain who was suddenly struck down by an undiagnosed urea cycle disorder.
For cycling enthusiasts, the Cure the Cycle Challenge was the real deal. Cyclists rode 35 (easy-peasy!) 40, 65 or 100-mile routes in the beautiful Napa Valley wine country (yes - 100 miles!!).  Everyone had a blast! We are honored to be the only official charity ride in the famous Annual Tour of Napa, sponsored by the Eagle Cycling Club. 2015 marked the 39th anniversary of their Tour of Napa ride that attracts over 2000 cyclists from across the US. UCD families came from as far away as Utah to ride in our Challenge and be part of the experience. Professional cyclist Larry Nolan ("The Machine") and his team rode along to help our riders with encouragement and make sure everyone was safe along the ride. The Napa Fire and Police Riders came out to ride for us straight off fighting a huge fire in Napa for days (talk about commitment!). They helped raise awareness and funds for our cause. We are so grateful for their support and all those who came out to help us take advantage of this incredible opportunity to raise awareness of UCDs!
A highlight of the day was our Tribute to Our Angels Balloon Release. Each year at the Challenge, we release hundreds of balloons with the names of children and adults who have been lost to UCD over the last 25 years. We will always remember them. It's a profoundly emotional, but inspiring moment - it reminds us all what is truly at stake.
Thank you to all our personal and business sponsors, and our "Trail Angels" for your generous support of our Challenge.  Our sponsors make it possible for 100% of the donations made to the Challenge to be used for research! Congratulations to our top fundraisers and teams! Toni's Miracle Riders raised over $13,500. Our top individual fundraiser, Klara Dickinson-Eason raised more than $19,000, and close on her heels was Bruce Scharschmidt raising more than $13,400! Thank you for your commitment to our UCD community!
Our deepest appreciation to all our Challenge participants, donors and friends for your generous support and for making the effort to make a difference in our fight to conquer UCD! 
Pics from the 2015 Cure the Cycle Challenge
---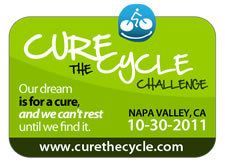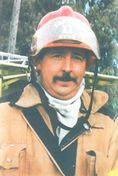 Second Annual Cycle Challenge Raises Awareness and
$125,000 for UCD Research
Our 2011 Cure the Cycle Challenge on October 30 in Napa, California in Memory of Jim Stavas was a great success, raising over $125,000 in donations and sponsorships for NUCDF's Brain Project research.  The inaugural Challenge, held in 2010, raised more than $65,000, which has already funded a critical research project. Awareness of UCDs reached thousands of people across the country through the media and social networking sites like Facebook. Our supporters make it possible for NUCDF to fund critical brain research projects to develop interventions to protect the brain from the effect of UCD. We're already gearing up for our next event in 2013! 
UCD strikes suddenly
The Challenge was held in memory of Jim Stavas, a seemingly healthy Napa Valley fire captain for 30 years who fell into a coma due to undiagnosed CPS1 deficiency after a simple outpatient sinus surgery.  Following the procedure, Jim was prescribed the drug prednisone.  Prednisone is a corticosteroid to reduce inflammation, but it also causes increased ammonia production. The combination of the procedure and the prednisone created a perfect storm for unmasking undiagnosed CPS1 and causing massive hyperammonemia. Jim's family contacted NUCDF and was put in touch with Dr. Greg Enns, UCD expert at Stanford.  Dr. Enns was able to diagnose Jim and provide life-saving treatment.  Jim fought valiantly through 18 months of rehabilitation for stroke-like symptoms and a series of hospital-borne infections. On October 1, 2007, Jim lost his battle with UCD, leaving his devoted wife, Carol and three children, Bradley, Branden and Katie, as well as his sister (who was subsequently also diagnosed with CPS1) and countless friends in the community.
100 Mile Challenge
In memory of Jim, firefighters and first responders from 3 Napa County fire departments, police and emergency personnel came out to bike in the Challenge and volunteer for the event.  Cyclists also included NUCDF families (shout out to Amanda Sonntag and the Stavas family), friends and medical professionals.  UCD expert Dr. George Diaz came from New York and joined his friend, Dr. Adam Freedhand from Napa, to ride in support of NUCDF and our UCD families.  Dr. Diaz flew in with his family and then flew all the way back to NY the next day. That's commitment!
We started our Challenge event with an emotional balloon release in tribute to all our angels lost to UCDs and a commitment to keep fighting to improve the lives of all those living with UCD.  Our ride officially launched as cyclists took off to bike one of two 50 or 100 mile routes through the beautiful vineyards and hill country of Napa over the course of  8 hours.  Team Specialized, a national championship cycling team captained by Larry Nolan, led the field of cyclists and made sure everyone was safe and sound (thanks, Larry!). Larry is a champion cyclist and a MACHINE! They were joined in spirit by over 30 NUCDF families participating as "Virtual Riders."  Our Virtual Riders set up fundraising pages on the Cure the Cycle website to raise funds in support of our cause without having to leave home! NUCDF mom Jamie Oliphint biked an amazing 50 miles with a friend in her own Texas community. Jamie plans to have more friends join her for the 2013 Challenge.  All our riders and volunteers were AWESOME!
Making a Difference
Thank you to all our participants, volunteers, donors, sponsors and organizing committee for your support and for making a difference in our fight to conquer UCD. Heartfelt thanks to Toni Martinez for her efforts and unwavering commitment, and our deep appreciation to the Stavas Family for courageously allowing us to share their story, and giving us the privilege of holding the Challenge in memory of Jim.
---
Our Dream is a Cure, and we can't rest until we find it...
---